January 2008 Newsletter
Beyond Price: Deal Breakers
By Stephanie Tallman Smith
Photo: © Dreamstime
Everyone has that one item that is non-negotiable and if the house they are considering lacks it, they will not budge. The sellers could be practically giving the house away but if it doesn't come with that one special feature, they can forget about landing that particular buyer. For some it could be a swimming pool, while others would buy a house with only one bathroom before they would consider buying one without a fireplace.

Knowing your deal breaker is important when shopping for a house. While you may be able to give a little on price, if you like to have fifty people over for Thanksgiving dinner and only have room for about thirty, the house you are considering will never truly be home. Make your non-negotiable items clear from the beginning. While some agents may try to convince you to look at other properties anyway, most will thank you for your honesty and focus their efforts on finding you your dream home.
Some of the most common deal breakers are:

• No fireplace
• No shower
• Not enough bathrooms or bathrooms are too small
• Not enough bedrooms or bedrooms are too small
• No place to put the dream Christmas tree
• Living/Family room isn't large enough to host family get-togethers
• Kitchen is too small
• No off-street parking

Be realistic about your deal breaker. Every home on the market has something the seller wishes they could have changed. If you find it hard to find any property that even remotely meets your standards, be prepared to reconsider your deal breaker. It could be that you really aren't serious about buying or perhaps you have unrealistic expectations about home ownership.

Knowing your deal breaker doesn't have to make home buying more difficult. On the contrary, it can improve your chances of finding the perfect home where you might just find yourself living happily ever after.
Gathering Mortgage Documents
By B. Conrad
Photo: © Darren Baker/ Dreamstime
It is a good idea for anyone considering the purchase of a home to gather the documents they may need and keep them in a safe place. In some cases the documents needed may already be available as part of your tax preparation paperwork, but in other cases it is necessary to gather additional information not included on the tax return.

The documents lenders will most likely ask to see are:

• W2 forms for the past two years.

• Federal income tax returns for the past two years.
• At least one recent pay stub. This pay stub should show your name, your Social Security number, your year to date earnings and the name and address of your employer.

• If you are claiming income from a second job or self-employment on the mortgage application, be sure to provide proof of this secondary income with W2 forms, pay stubs, bank records and business tax returns.

• Documentation of other sources of income, including VA benefits, income from retirement funds and pensions, commissions and bonuses, interest, dividends and Social Security benefits should also be provided if that income will be used to justify the mortgage loan. Any income derived from alimony or child support will need to be documented as well.

• Investment records, including mutual fund statements, stock certificates and other proof of invested assets.

• If you have already found the perfect home, the lender will need to see the sales contract, including the purchase price.

• The lender will also need to see a list of any creditors, including credit card issuers, student loan issuers, car loan issuers and the like.
What Your Homeowners Insurance Doesn't Cover
By Angela Baca
Photo: © Justin Horrocks/ Istockphoto


According to the Insurance Information Institute, standard homeowner policies do not include certain types of insurance coverage. If you have a Homeowners-3 (HO-3) policy (which is the most common type of policy in the U.S.), then your home is not covered for floods, earthquakes, and water seepage. If you live in areas where these types of events as well as hurricane wind damage are possible, you should purchase additional insurance coverage for your home.

It is also important to purchase high enough limits for each type of basic insurance coverage and each type of additional coverage. For example, if you purchase flood insurance but choose a very low limit, you could be left with thousands of dollars of unpaid damages after a flood destroys your home.

When purchasing insurance, you have to balance the need to adequately insure your home against potential losses with the need to purchase an affordable premium.
This process can be difficult, but protecting your home should be your top priority.

Here are some tips to help you find a reasonable premium for a comprehensive insurance policy:

1. Go to several insurance companies and obtain quotes for the same levels of coverage. Ask for a printout of each company's quote (including a breakdown of coverage limits) so that you can compare them side-by-side.

2. Ask specific questions about losses that are not covered when you speak with each insurance broker. You have a right to understand what you are purchasing.

3. Ask questions about which types of coverage you can carry lower limits on. Consider types of coverage like injuries, personal property, trees, and external structures.

4. Do research on the Internet about the company you decide to go with before purchasing the policy. You can investigate customer complaints and any problems with paying out claims in your state.

5. Find more helpful information from the Insurance Information Institute, HUD, and the Federal Trade Commission if you have more specific concerns. For example, the HUD web site (HUD.gov) offers tips to save money on purchasing homeowners insurance.

Remember, as your home's value increases, you will need additional insurance to cover the replacement cost of the home. Consider increasing your insurance limits as you become able to afford a higher premium.
How to Create a Perfect Dining Room
By ARA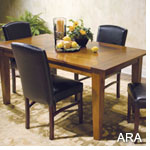 Here are a few simple tips to redecorate your dining room from the designers at Arhaus Furniture:

Have a Seat - Gone are the days of matching "sets" of furniture. For same seating and a more glamorous look, try a retro-modern style. The perfect example from Arhaus is appropriately called Grace - with a classic empire silhouette and softly padded seat.

Shapes and Sizes: Dining Tables - Dining tables are available in a variety of shapes and sizes. Take your room and how many guests you typically serve into consideration when picking the table that is perfect for you.

Trends: Materials and Finishes - Natural, rustic finishes are the rage, such as honey tones like natural or light oak. The use of white paint and even driftwood-toned stain is replacing many of the deep, dark shades. For more tips on "dining décor," visit the Arhaus Furniture Web site at arhaus.com.